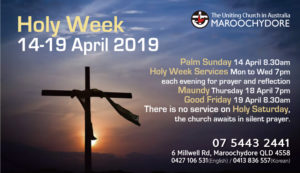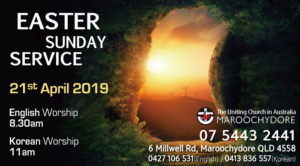 Easter Service for 2019
Holy Week 14-19 April
Palm Sunday 14 April 8.30am
Holy Week Services
Monday, Tuesday, Wednesday 7pm each evening for prayer and reflection
Maundy Thursday 18 April 7pm
Good Friday 19 April 8.30am
There is no service on Holy Saturday, the church awaits in silent prayer.
Easter Sunday 21 April 8.30am English Worship; 11am Korean Worship.
Services of Worship
Worship is held each Sunday at 8:30am, followed by morning tea in the hall.
On the Third Sunday evening of the Month at 6.00pm there is a service following a series to introduce each book of the Bible
Holy Communion
The first Sunday of each month we celebrate Holy Communion in our 8.30am service.
Korean Language Worship Service
Worship is held each Sunday at 11:00am, followed by Lunch in the hall.
Greek Orthodox Church
now meeting at Mooloolaba Uniting Church
Please contact Steve Doulgeris  0414 612 527
Thank you for the ongoing support for the Ministry & Ministry of our Church.
Our Church Details:
UCA Maroochydore Uniting Church – St George Bank
BSB 334 040 Acct. 553 864 511
---